How to merge audio and video
Sometimes, we go out somewhere with our colleagues or friends: on a picnic in the park, at a concert of your favorite band or just walk around the city. Now each of us has a smartphone with a good camera in his pocket and any moment can be shot on video. It is very convenient – you have no need to take a huge camcorder.
We always want to capture pleasant emotions, events, people. And, of course, we want to share our impressions. Lots of social networks help to do it quickly and get easy a million of likes and nice comments. But not always our videos deserve the approval from people. Why? That's why! Not every video can be of high quality. But what does quality mean?
First of all, quality is a beautiful picture, a connected plot, musical arrangement. Certainly, you like to watch a live video, because you were there and saw everything with your own eyes! However, others may not understand your sincere joy and go to another room where there is YouTube with lots of cool videos. And then, you ask yourself: "How can I make the same attractive content?" And we have the answer for you – Pixiko! It is an absolutely new and technological platform for video editing.
How does it work?
It is very easy to use Pixiko. You upload your video and can use such simple tools. Video may be cut into separate pieces and merged. For example, you shot a long flight of a bumblebee ? and had been recording it in the air for 15 minutes. No one wants to watch how that insect flew for sooo long. Everyone is interested in a place where it sat... It is not desirably to make people turn the video off in the middle, does it? Everybody wants to get out a message. But people don't like long and boring videos. And Pixiko will help you.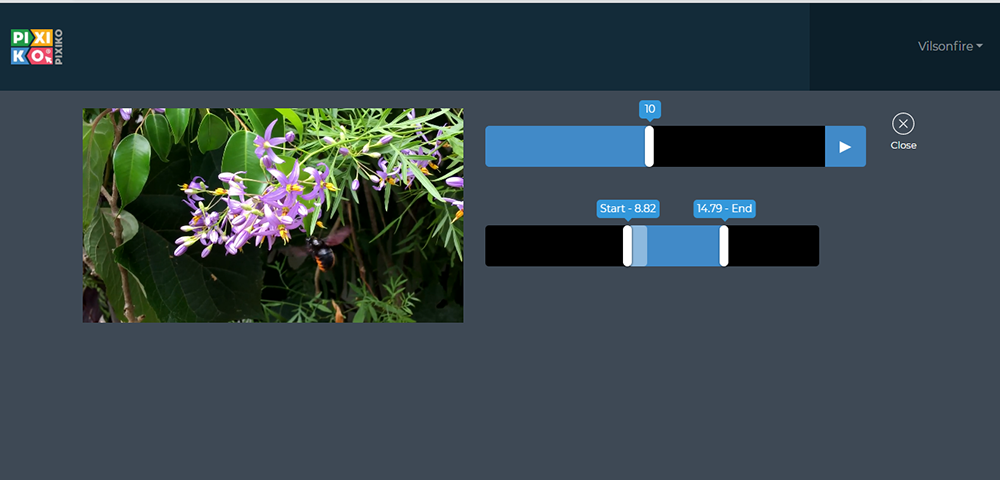 You just cut off the unnecessary part of the video and merge it in the moment where the bumblebee sits on the shoulder of your girlfriend and she screams loudly and starts running away from the furry villain.
How to join music and video together?
How to make a video more interesting? So, you have a perfectly edited video. Can it be better? It can! To achieve a really humorous/tragic effect, you can also add fun/tragic music ? to your video e.g. "Flight of the bumblebee" by Rimsky-Korsakov.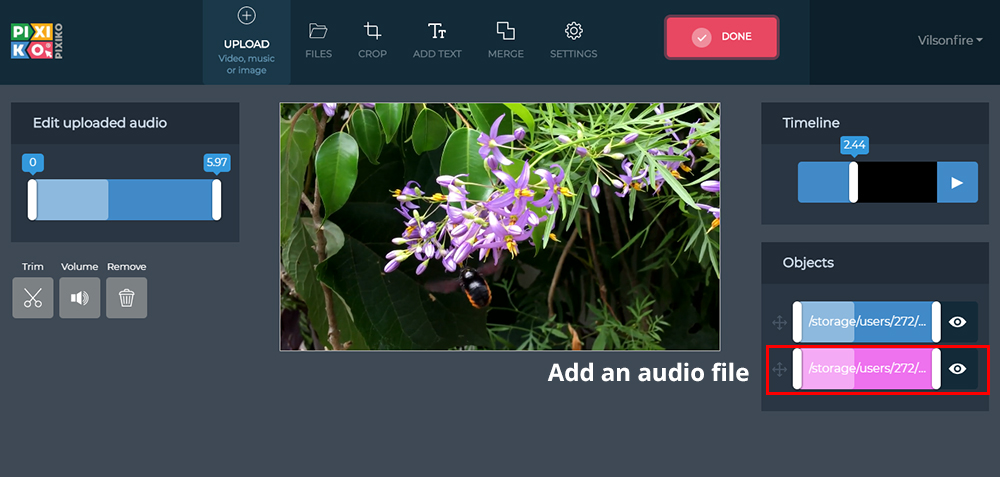 Another situation when you need to merge song and video. So, what if you shot your child's song? You do not want to miss this precious record! However, there is a problem. The quality of that audio is not good.There is a good decision. It's Pixiko again! You can separately record the voice of your prodigy ? and combine audio and video. A couple of simple clicks and it's done! You can post the source of your pride on Instagram or Facebook.
So, now you are inspired and eager to make quality videos. Well, upload a video, choose your favorite song and edit! The Internet is waiting for your videos, and Pixiko is always ready to help!