Speed Up Video
Your video may be faster than you think
How to speed up video online
Everyone and his brother did not write and did not tell about the popularity of the slow-mo video. The video with the slow-mo effect was and remains very viewed on various social networks: TikTok, Instagram (Reels and Stories), YouTube. However, at the same time, many people forget that the speedup effect for video is no less popular and even necessary in some cases of editing. Well, today we are going to tell you where, how and why you need to speed up your video. Go!
The speedup effect is used when a process of a high time length, which still needs to be demonstrated, needs to fit within a certain time limit. This often becomes a problem in some social networks, and uploading a video into several posts of the same type means losing the viewer's attention. Speedup is a real salvation in such situations! This effect, along with a huge number of others, no less interesting (like slow-mo, split screen, reverse) is in our online video editor Pixiko! You don't install or download anything except the finished video. Convenient, isn't it?
Everything you need to do is upload the video, trim it if you need to remove unnecessary scenes, apply speedup effect and, maybe, add text or soundtrack. Ready! Click render and download the finished video.
What is it used for?
Create a comic effect. Suitable for entertainment blogs. Add music to that and the comic effect doubles.

Fit the video into the specified time limit.

Speed ​​up those processes in the video that are of secondary importance. Therefore, at the same time, their demonstration is important (this is how the technical moments of creating something are speeded up). The viewer's attention remains at a high point and it is still interesting for them to watch.
Enjoy our tools for free!
Watch this video tutorial
Frequently Asked Questions
Yes, you can speed up your video with the "Linear" tool in the "Time effects" menu.
If it is necessary, you can set different speeds at the beginning and in the ending of your video to make acceleration smoother.
Besides, you can use speeding-up not only to the whole video but to a certain period of time too.
Choose a certain period of time in the Linear settings. Set numbers in the "Start" and the "End". For example, you can speed up your video in 2 times at the beginning and in 4 times in the ending.
Do not forget to click on "Apply".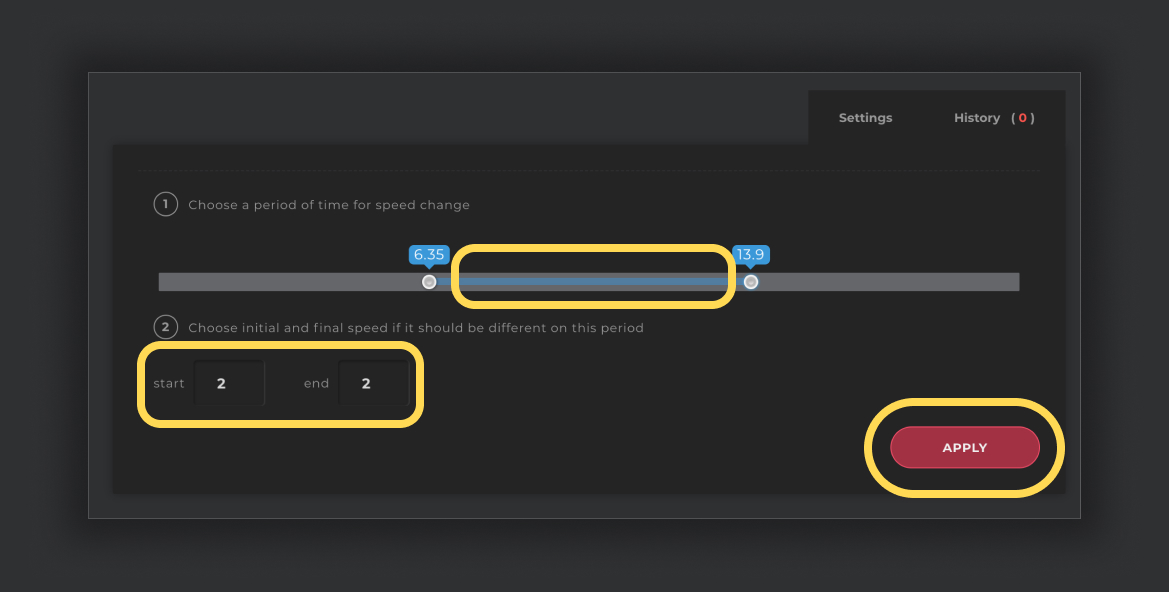 You can speed up your video with the "Linear" tool in the "Time effects" menu.
Choose a certain period of time which will be accelerated, set a number of times and click on "Apply".
You can speed up the process of generation if you buy the subscription. The subscription will give you an opportunity for a priority queue. Such a turn is intended for users who have bought the subscription.
The generation speed depends on the size and length of your project and your turn among other users at the moment. Generation of short videos can take about a minute. As for long projects, they can take more time. The more users generate videos the more time is necessary for generation.