Crop Video
Crop videos online fast & free with Pixiko Video Cropper 💪
Use it for Youtube, Instagram, Twitter, Facebook, TikTok or your website.
How to crop video online
A few clicks – and your video (just for free!) has the right size for any social media: Youtube, Instagram or TikTok
A simple way to crop a video
Even a perfectly recorded video may need editing. You can focus on an object and do not pay attention to background while shooting it. Unnecessary things or space can distract viewers' attention from central figure.
Today, it is easy to remove unnecessary things from your video by Pixiko Video Cropper. Just crop your video and make people focus on good content.
You can see and use our Online Video Editor which allows you to crop your video online and do other operations. Upload your footage by clicking the "UPLOAD" button or just drag-and-drop your file. Here on the top navigation bar you should click "CROP". It will open you necessary settings. A soft pink square area helps to select a desirable fragment. Try options, offered on the left.
Social network lovers can use prepared templates with necessary size. It can be an Instagram Story format or a FB Cover etc. You shouldn't google all these video formats, we have already done it.
Apply settings, watch your edited video. If you satisfied with it, click "DONE" and have a rest. If no, drink some coffee ☕ and continue editing. It is possible that you gave a glance at other options, for example, Video Cutter or Video Combiner. Don't feel shy and try them too. They can upgrade your video and make you feel happy! ?
What is video cropper used for?
Getting rid of unwanted parts of a video.
Using your footage for Instagram or FB stories.
Making a cool FB Cover for your community.
Uploading a cropped video to your website or YouTube channel.
Crop your video for free and online!
Watch this video tutorial
Frequently Asked Questions
If you change your mind after using the "Fit" tool for your video or image, it's possible to return everything. Select a necessary object (file) and choose the "Fit" tool again clicking on "Contain".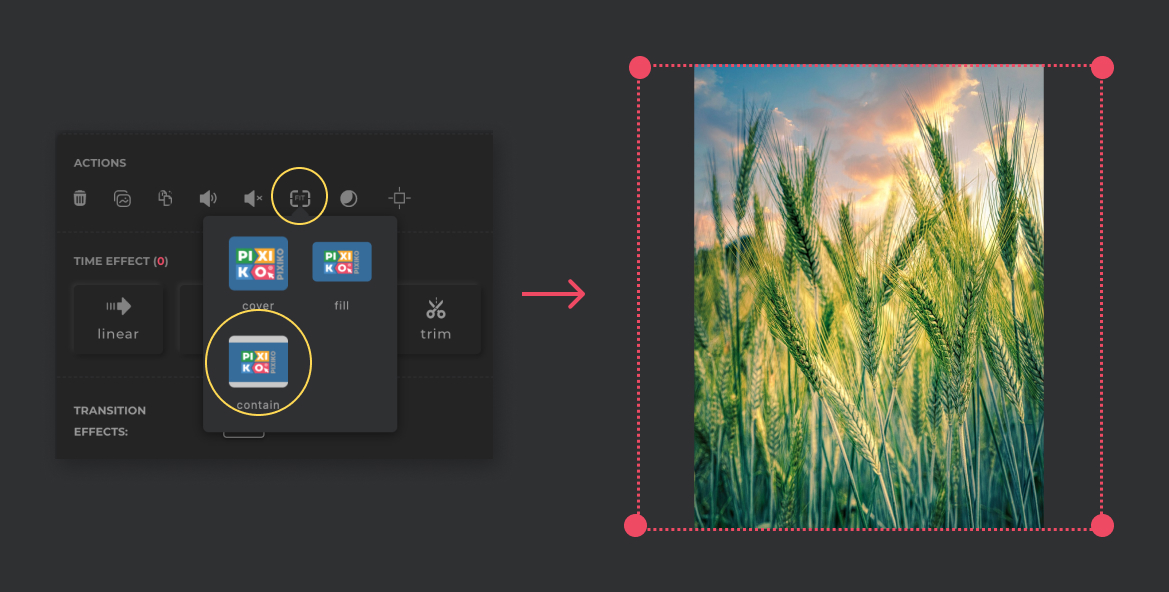 Cropping can be useful if you have a video or an image with different aspect ratios (dimensions) which are not suitable for your project canvas, and you want to resize it in order to remove black areas that appear top and bottom or to the sides.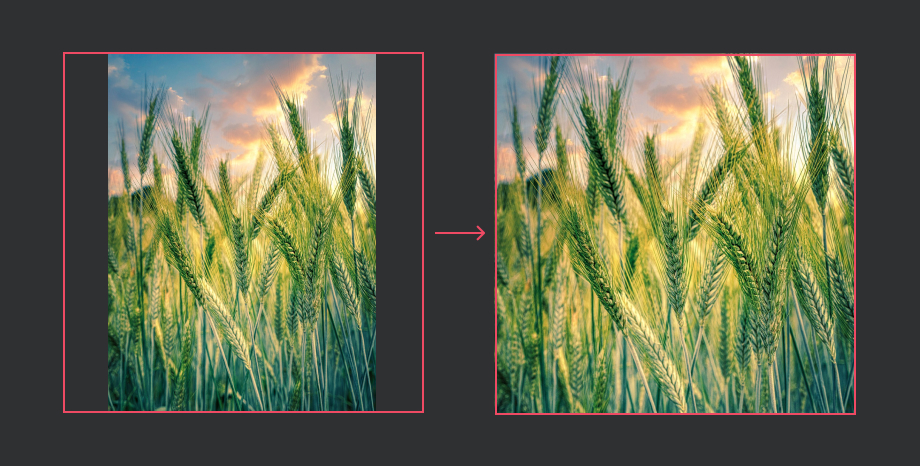 Upload your video in order to crop it.
Move the red frame of your video or image to set necessary ratios e.g. square: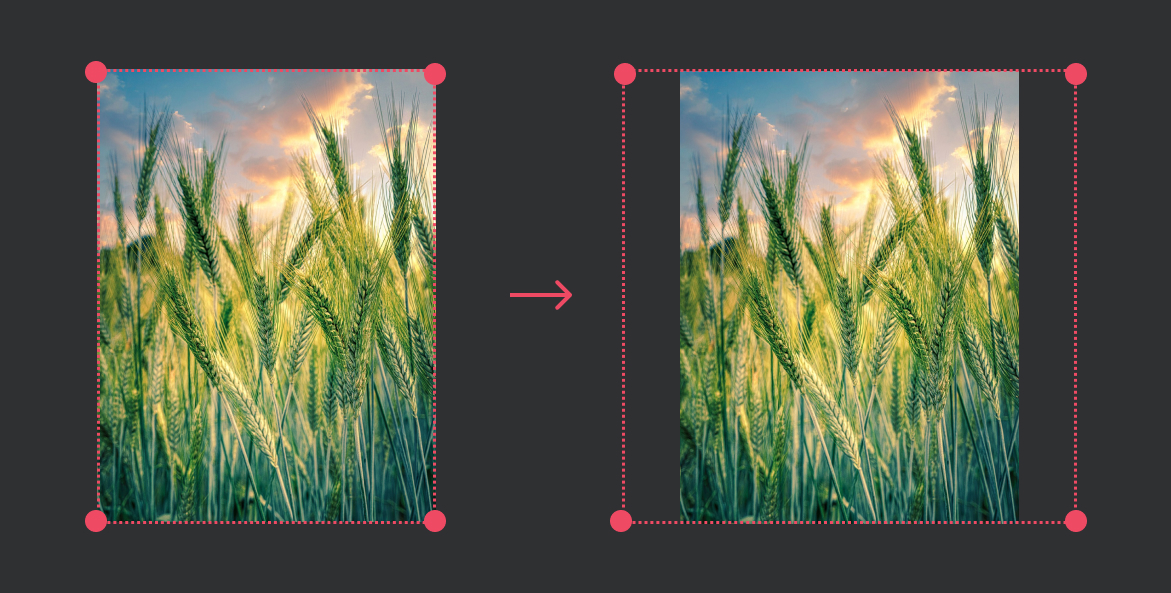 Use the "Actions" menu and choose the "Fit" tool and then "Cover" one.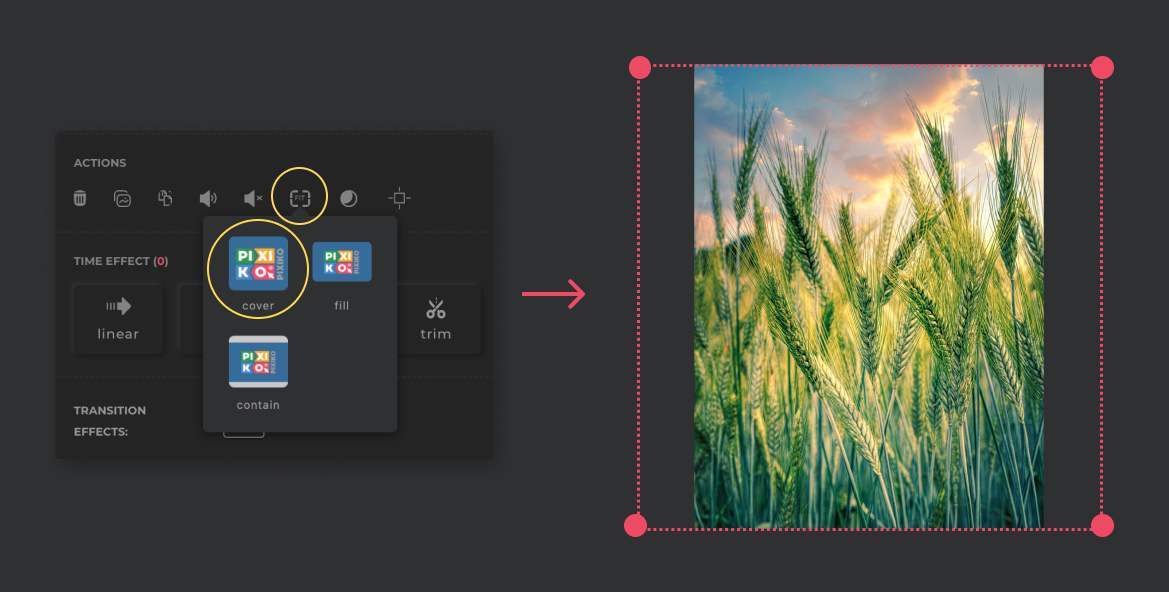 Cropping changes the aspect ratio of a video.
Cropping is useful when you are going to turn a rectangular video into a square one. Trimming is different:
If you trim a video clip you change the length of it. So, you can delete a beginning or an ending of a clip by trimming. Learn how to trim a clip in Pixiko Editor evolution here: video trimmer
You can speed up the process of generation if you buy the subscription. The subscription will give you an opportunity for a priority queue. Such a turn is intended for users who have bought the subscription.
The generation speed depends on the size and length of your project and your turn among other users at the moment. Generation of short videos can take about a minute. As for long projects, they can take more time. The more users generate videos the more time is necessary for generation.