Video Merger
Merge videos and/or photos online via three easy steps! 🤲 Start now and free!
How to merge videos together
Upload video and/or image files 👉 Set the order 👉 Start rendering
And Pixiko Video Merger Tool will put it together!
1, 2, 3 or more videos turn into one clip
How wonderful it is that now we have the possibility to shoot videos and save them to digital media with the subsequent ability of editing! We don't need to glue tapes and create the impossible for making special effects. Today, almost everyone can make a cool video, and even for free! Our online video editor Pixiko will help you with this!
Speaking of gluing tape, we must tell you that our video editor has a special tool for merging multiple videos into one. You are not limited in the number of sources, merge as many elements as you need.
Use merge tool to create cool music videos, a variety of YouTube or Instagram (IGTV) vlogs, commercials that include an overview of a new collection, and more.
It doesn't matter if you shot a video using a smartphone or a camera, our editor supports all video formats and allows you to work with them. Full video creation is now fast and affordable for video makers of all skill levels.
Select the videos you want, upload them to Pixiko, select and cut out the moments you want to combine, add effects or effective transitions, some text. Click "set out time" near "union time all videos" in order to sum up all the time. Customize timelines and place videos one after another. Check it. So, you can see how several fragments are turned into the whole clip. Plus, you can easily overlay music or brand logo if needed.
Why merge multiple videos?
creating memorable videos from any significant events for you;

commercials for any product or service with more than 1 shooting plan;

music videos (for their creation, Pixiko editor has the entire set of necessary tools);

vlogs for YouTube channel of any topic.
Enjoy it for free!
Watch this video tutorial
Frequently Asked Questions
Yes, you can use videos of different formats in one project. Pixiko Editor converts any uploaded videos into mp4-format.
You can choose one of the "Transition effects" for combining two videos and smoother transition between them.
First, put your videos one after another on the timeline.
If necessary, you can increase the total project time: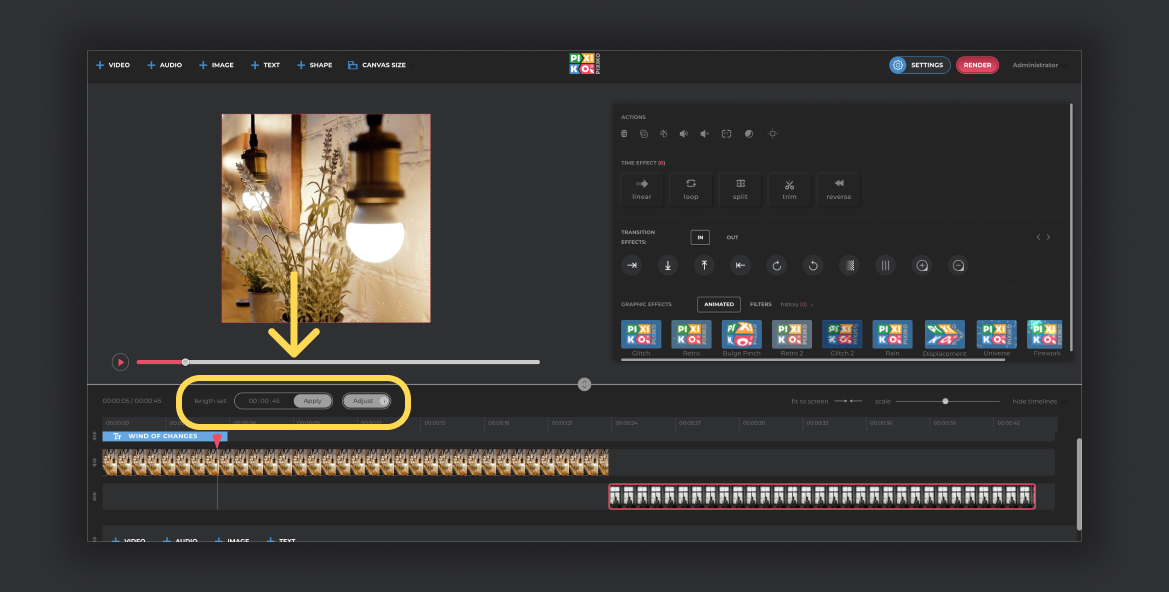 Use one of the "Transition effects" for smoother transition between them:
to the end of the first video

to the beginning of the second video

to the end of the first video and to the beginning of the second video at the same time
According to your wishes, you can make different results by combining effects. Make an experiment as you wish :)
You can speed up the process of generation if you buy the subscription. The subscription will give you an opportunity for a priority queue. Such a turn is intended for users who have bought the subscription.
The generation speed depends on the size and length of your project and your turn among other users at the moment. Generation of short videos can take about a minute. As for long projects, they can take more time. The more users generate videos the more time is necessary for generation.