How Pixiko payment packages work?
We are welcome every visitor of our website and user of our editor. Everyone can try Pixiko Editor for free. It means that video editing with all tools and free stock files are available for all people. However, your project will have our watermark which helps us to spread information about our editor
Pixiko also offers an opportunity to remove this logo from your video by one of three packages. Let's learn about them. Two minutes – and you are an expert in this question!
All features of all packages are here. However, we are going to tell you about them in detail in this page. Do you need your edited video without our watermark? Choose the first one. One-time payment allows saving of a 15-minutes video (no more than 150 MB), which will be available for you in your account page for two days.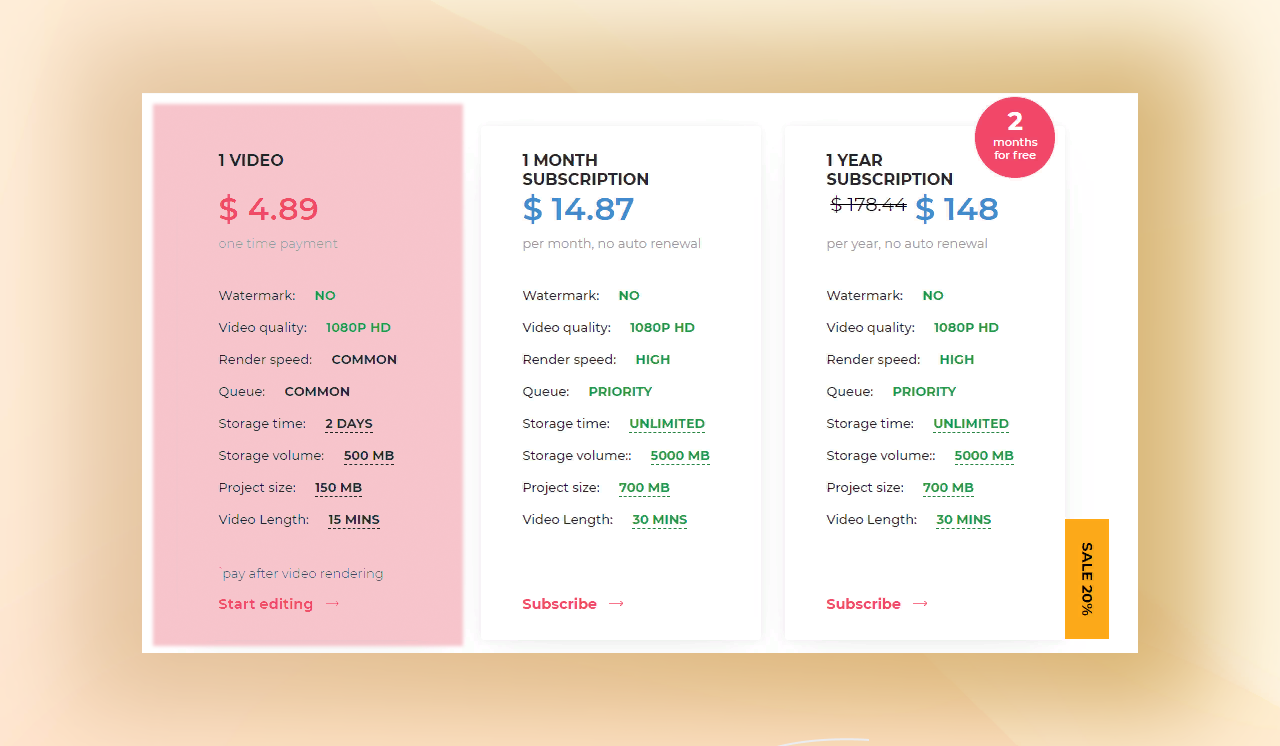 Subscription gives you quite more opportunities. Let's look at 1-month subscription. It really has advantages. You will be able to edit and make as many videos as you want. All of them will be without our logo. Pay attention only to your free space. The subscription allows storing project less than 5 GB in total. When one-month subscription is over, your videos will be stored for two days. Do not forget to download them or prolong the subscription.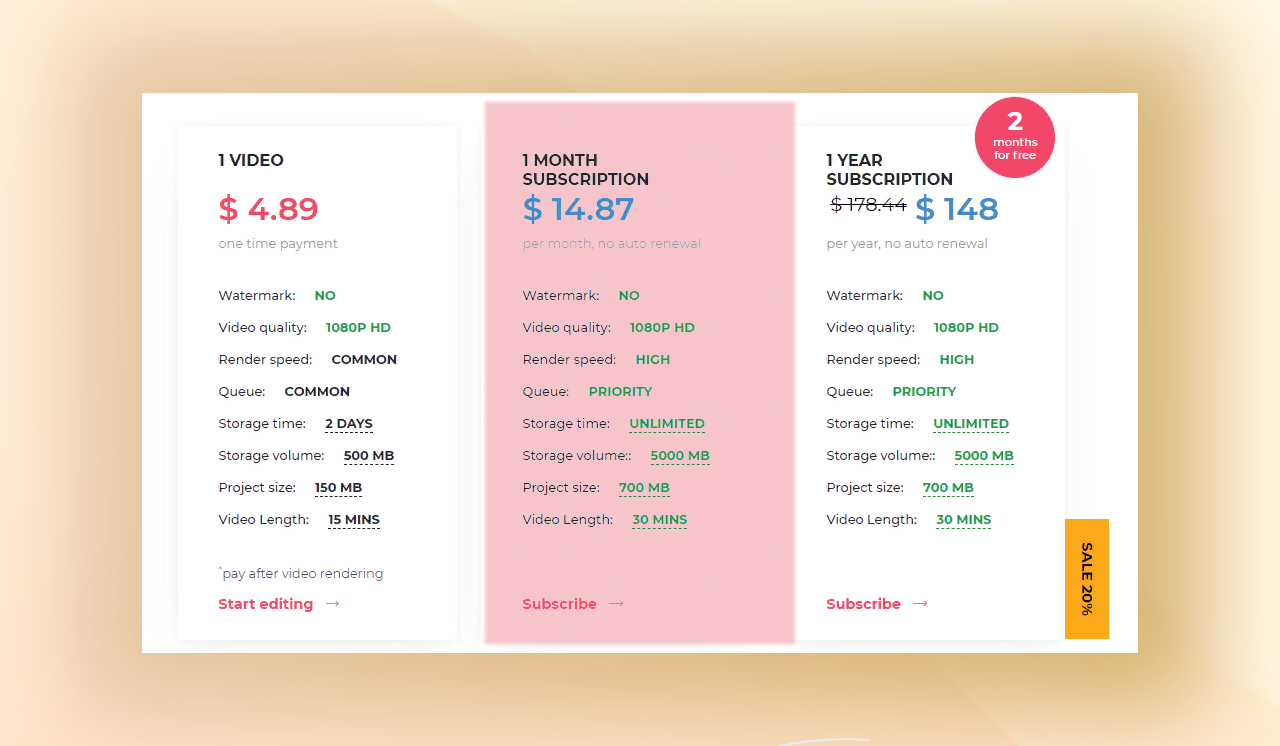 Another advantage is a separate queue. You will notice it while your video is generated. Free users need to wait longer. Subscribers have their own queue which is faster.
What else? Your project can be longer if you have the subscription. Usually, the Editor allows making a video no longer than 15 min. Our subscribers can create videos till 30 min.
All these advantages are also available for those users who want to buy 1-year subscription. This long subscription is more profitable and allows you to save money.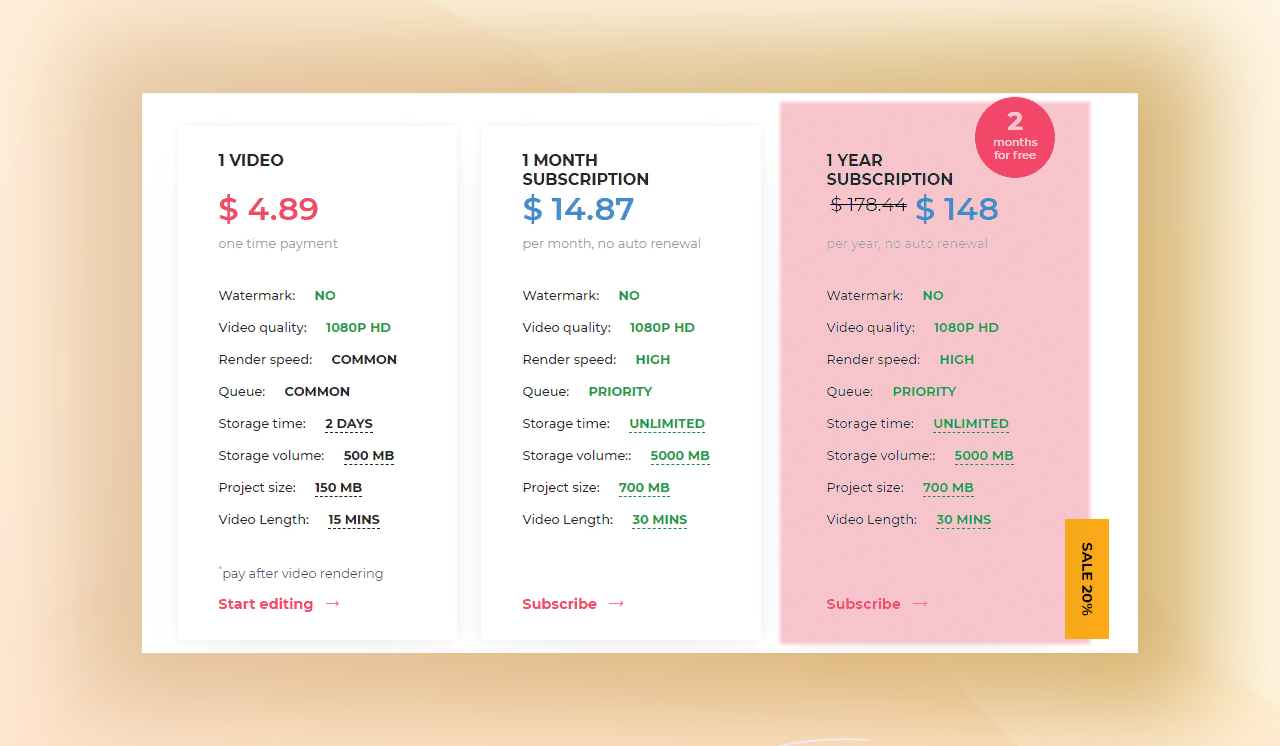 When you decide about the subscription, just go to the Price page and choose a preferable payment method (by card or PayPal). That's all. Several clicks and you have a good opportunity to make cool video content every day and every minute!
Don't be afraid about subscription ending. All notifications will be sent to your e-mail. All your videos and projects will be available in your account during two days after subscription ending and then… they burn 🔥 …
Don't allow your masterpieces to be burnt. It's not fair. Prolong the subscription and create again!