Free month subscription: you can really get rid of payment
Why should you pay on Pixiko? In order to download your video without our logotype and help us to develop our Editor, offering you the most useful tools. Don't you want to pay but have a wish to get rid of the watermark? Just help people to know about our website ? .
There are 4 ways to spread information about us and get a month subscription FOR FREE!
Write an article about our service
You can write ✒ an article about our Editor in two formats.
You can use simple words in order to describe our tools. It will be some kind of review:
Mention how our Editor works
Write why it is useful for you
Explain why it can be useful for other users
One more format is an instruction. You can show how you use one (or more) tool in the Editor. It can be Merger, Cutter, Converter etc. Use a title with our name such as "How to add music to a video on Pixiko" and write a short tutorial. Give a link to our Editor.
This review or tutorial should be published on your blog (if you run it) or a website. If you have neither a blog nor a website, we are ready to give you a list of web-resources:
Make a video overview
You can get a month subscription after shooting a video about our service. It can be a short or detailed tutorial which helps people to know about the Editor. You video instruction should be uploaded to your YouTube channel.
Write a review on one of the websites
It is one of the simplest ways to get a month subscription. Just go to the following websites and leave a review:
Be free and write what you like on Pixiko.com. We will be happy ? to read your review and you will be able to create a movie and download it without a logotype for free after getting a subscription!
Make a post on Facebook
So, we are sure you want to know the easiest way. Everyone has an account on social networks. We offer to make a post on Facebook with a link to our website (Pixiko.com). Moreover, like 5 videos on our YouTube channel.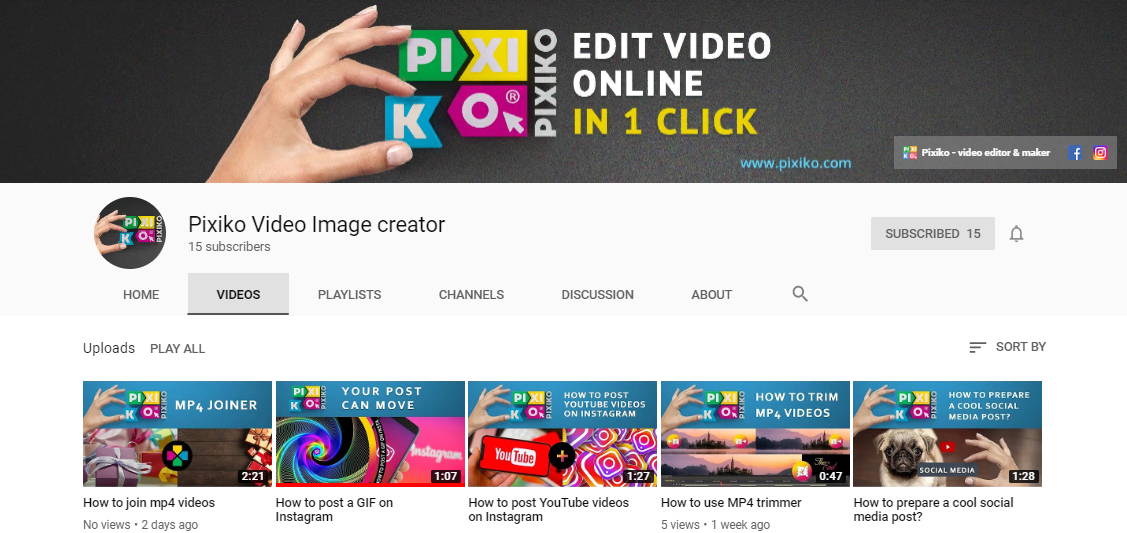 When you do something from this list of four ways, send us a letter to info@pixiko.com with a screenshots about your actions. We will answer you and give a month subscription. In such a way you will be able to create a billion of videos of any size and length for free and without our watermark.