Text Animation
Easy way to move 🤸‍♂️ text and animate your post or banner for free
How to animate text online
As editing isn't only about technical aspects like cutting, trimming, sound adding, fitting but mainly creative, we're glad to announce that now Pixiko let you to work with added text more professionally. So you're able not only just add some text but set up its font, color, size, style, placement and animation.
Choose some ways of how you would like the text to appear and disappear. It can be a single style or different for each one.
What's important here:
The animation is applied to a chosen text fragment, not to the whole text of the video;
You set up a time period of the applied animation;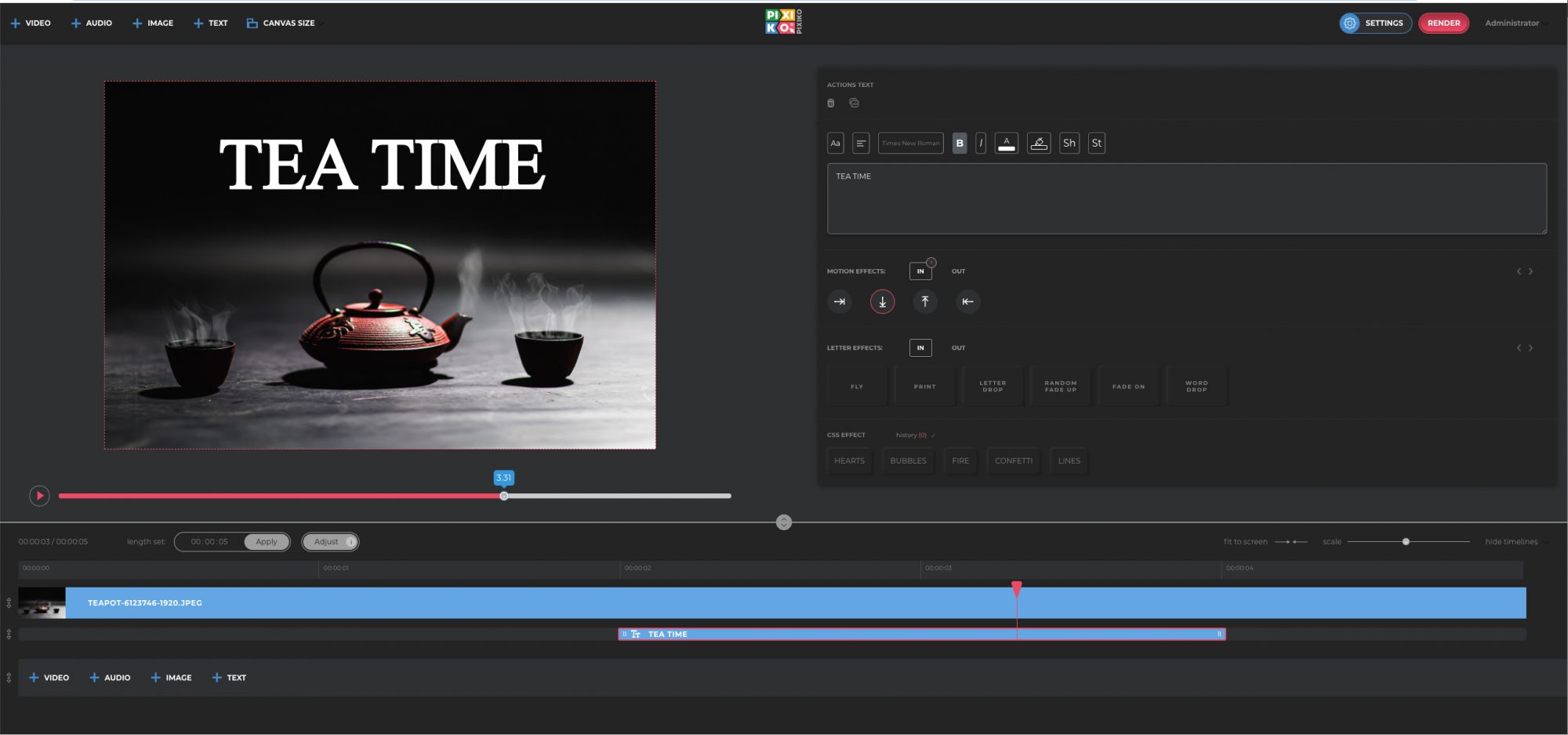 How to use text animation?

Let's imagine you have a promo video for a product that you're going to post on Instagram. (Don't forget to fit it for Instagram requirements). In the form of the text you may present its title, key features, advantages, additional information about the manufacturer.
Depending on the main concept of the video, you may set up text animation in a minimalistic style with simple habitual entry and outlet motion effects. You may not apply motion effect for it, only letter ones, for example fading on. It looks sophisticated and modest. So, the info is presented but doesn't attract too much attention with its brightness. Just a kind of support to what is given in the video.
On the contrary, if you want to attract more attention to what is presented in the text make it as vivid and colorful as possible. For example, it's an ad video about sales in your shop. Stylize the text in it in the brightest way with animation effects Pixiko offers you. Big font size, bright color, motion effects that grab attention will help you do the job. You may apply different effects to one and the same fragment. Create what you want!
Frequently Asked Questions
Use the "Add text" button in the upper menu if you want to add text to your video. You will see a new window on the right where you can type your text. You can also use different effects. There are graphic effects, transition effects, and letter effects. You can use them all together or separately.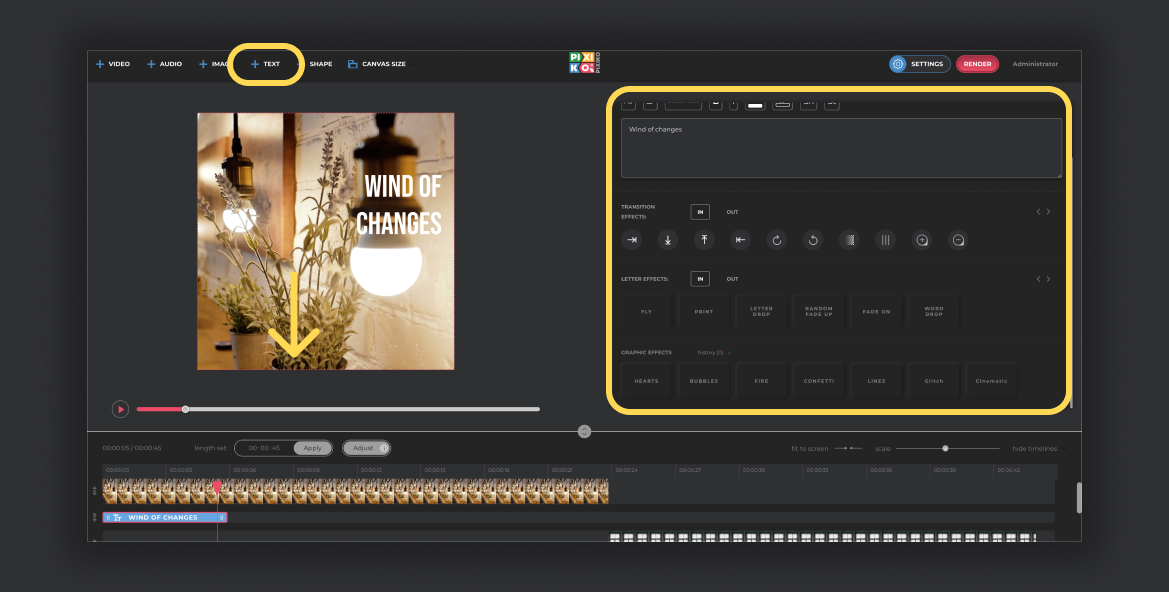 You can apply different animation settings after adding your text. There are graphic effects, transition effects, and letter effects.
Graphic effects can be used for the whole video or for a certain period of time.
Transition effects and letter effects have IN and OUT options for applying at the beginning or in the end of your video.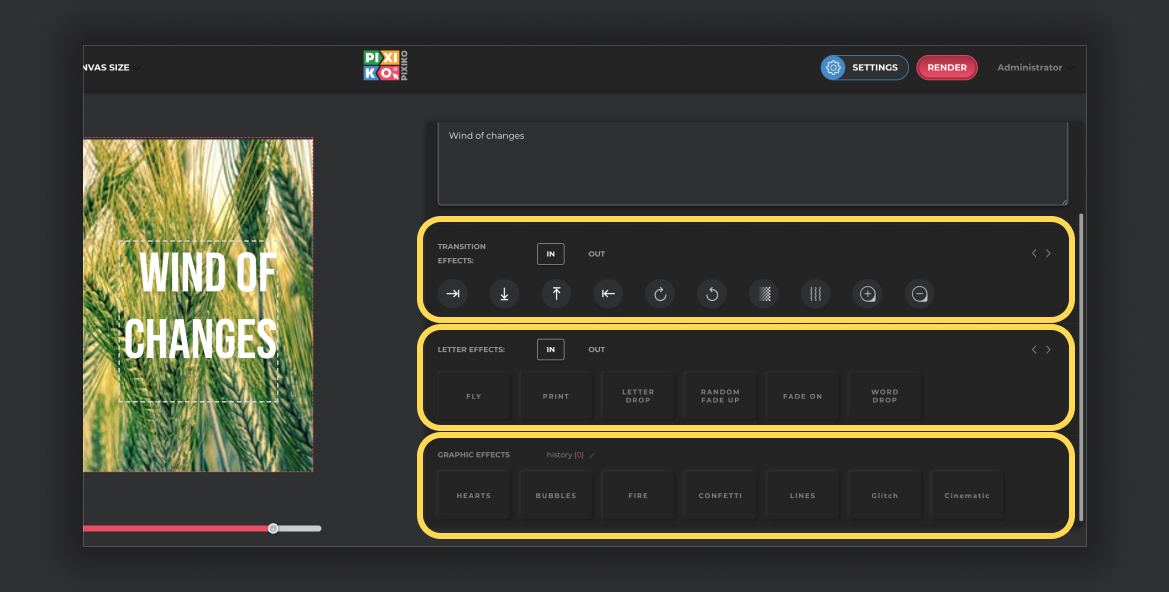 You can speed up the process of generation if you buy the subscription. The subscription will give you an opportunity for a priority queue. Such a turn is intended for users who have bought the subscription.
The generation speed depends on the size and length of your project and your turn among other users at the moment. Generation of short videos can take about a minute. As for long projects, they can take more time. The more users generate videos the more time is necessary for generation.