How to accept payments worldwide and how much it costs
Vadim Skopintsev is here. I am a co-founder at Pixiko.com - online video editor and maker and Zexler.com - digital advertising agency. I am going to tell how we get payments on Pixiko all over the world.
Tell about fees in details and distribution of payments through a bank card/PayPal according to real data. Let's look at it from our personal experience which cost money. There will be useful information for startups and such companies which plan to receive online payments all over the world.
We have developed the calculator for fees. The link is below in this article.
A little bit of previous history
We always wanted to make our projects (useful services) in the Zexler company like other agencies, aiming at global domination :) We paid attention to video (and animation) creation and editing, working on one SMM project. We went deep into this market (taking into account queries in Google Keywords Tool) and understood that it was worthy. In such a way, we have created the international online video editor Pixiko.com.
When a project is made using own money, a question of monetization is of paramount concern. We have chosen a perspicuous way ー payment for one edited video and/or a subscription. The question about payments all over the world arose immediately. We understood that we needed PayPal and receiving money from bank cards. By the way, there was an idea about cryptocurrency but it is still in the stage of thinking.
International online payments connection
PayPal was chosen at once because it is a popular payment system in the USA and in the world. That's why we decided to connect it firstly. It had to be understood that PayPal is a closed system which guarantees saving payment information and user's money in any place in the world. The only aim was to connect this system properly.
Debit cards are more difficult for using. As a result, we had to choose a service with a safe payment system. The following factors were very important for us:
Receiving money from debit cards online and all over the world.
Good reputation among users from any country.
We have chosen 2checkout. It is a popular platform. The service has been working for a long time and has a great number of investors. It also has other advantages for users' trust.
How much are payments?
At first we didn't pay attention to cost of the payment systems services and focused only on our product, conversion and attracting users. When we decided to use paid advertising it was necessary to think about profitability (unit-economics). Here we couldn't omit fees. First of all, we decided to include all fees into the file-calculator. Secondly, we compared settlement and actual fees. In such a way, we got an average sum of fees which was supposed to be taken for one paid user.
Firstly, I want to tell about all fees depending on a payment channel.
PayPal
A fixed fee per transaction is $0.12.
Percent from a total sum is 3,9%.
2checkout
A fixed fee per transaction depends on a tariff. However, a minimum sum is $0.35.
Percent from a total sum depends on a tariff. However, a minimum is 3,5%.
A fee for transaction to your account is $15 (unfortunately, there is no information about it on the website).
And other strange fees which are open to question.
Pay attention to 2.3. It is VERY IMPORTANT to change a minimum limit for withdrawing during settings. The default sum is $50 and it is not good to gift 30% of your NET-profit (in addition to previous fees). We gifted and it is a pity.
There are the following fees for paying without taking into account a transfer fee:
A fee from all payments is 10,99%
By 2checkout - 12,81%
By PayPal - 7,48%.
Fees are very high. Mostly because of low cost of our product. That is why one of our aims was to achieve increasing of an average sum for selling.
We have developed a calculator for fees. It is possible to enter prices for your products, choose a channel etc. - link to calculator It also has our real data of payment systems distribution. Use it and write us if you need something more.
What users use for payment
Systems and fees are quite understandable. Now, I want to show the result of payment system spreading by users on the basis of Pixiko current data.
Transactions between PayPal and 2checkout are 34% and 66% from the total sum of transactions. So, users prefer debit cards about twice more than PayPal.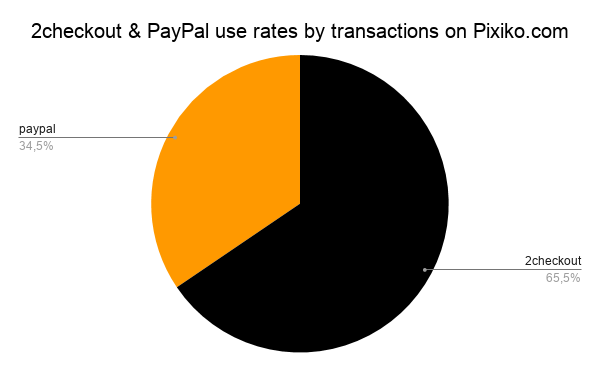 The value of payments between PayPal and 2checkout are 32% and 68% from the total sum of payments. As a whole, it is like the situation with transactions - large sums are paid by cards about twice more than by PayPal.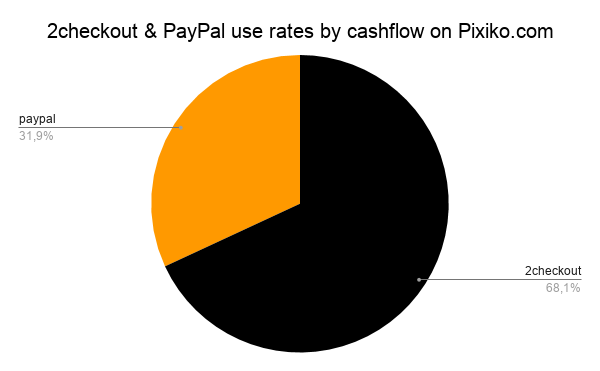 Here are the statistics of using payment systems among 5 countries (popular on Pixiko). Germany likes PayPal very much. However, the rest ones also prefer debit cards.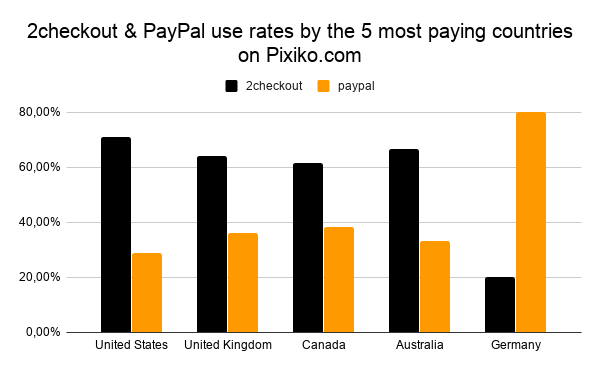 Conclusion
Debit cards and PayPal will meet the needs of users all over the world.
I recommend 2checkout for paying by cards. In spite of it has ulterior fees, the system works stably. There were no complaints from users.
Don't forget to raise a minimum limit for withdrawing from $50 till e.g. $1000.
First of all, give users the opportunity to pay by debit cards because 65% of users prefer this way of paying and only 35% use PayPal.
Prime cost should include fees for service from 4 % till 11 % from your profit.