むかしむかし...ピクシコで:最初の1,000の支払いを受け取った方法
Vadim Skopintsevはここにいます♥私は共同創設者です Pixiko.com -オンラインビデオエディタとメーカー とZexler.com -デジタル広告代理店。 一年前に私を幸せにした一つのイベントがありました-私たちは最初の1,000の支払いを得ましたPixiko.com (と自信を持って進んだ)。 それらのすべては、MVPが発売されてから15ヶ月間に作られていました。 これに関連して、私たちがどのように支払いを受けたか、何がうまくいったのか、何がうまくいかなかったのか、どの仮説が良かったのか、良くなかったのかをお話ししたいと思います。 この記事は、内部プロジェクトを立ち上げる新興企業やそのような企業に役立ちます。
についての紹介がありますPixiko.com で 私の最初の記事▲私は世界中の支払いを取るために私たちの方法について書きました。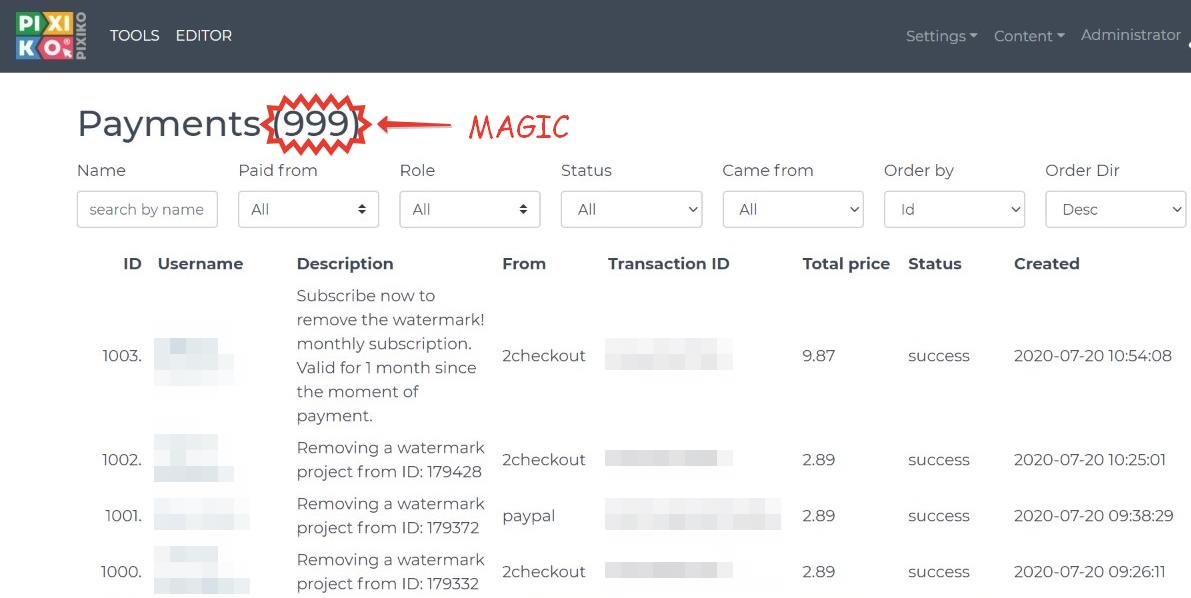 Monetization, fear & game with price
We started different projects inside Zexler. Anyway, all of them were made for profit. A matter of monetization was delayed and it caused fading and giving up. According to our experience, if a project doesn't make a profit (even a bit) at the beginning, it will break down soon. Therefore, we decided to think of monetization while developing Pixiko. It was supposed to make a little profit even at the beginning.
The first idea of monetization was getting payments from subscriptions which allowed users to download a video without our watermark. We analyzed competitors, set lower prices, and were going to start. However, we understood that the subscription hardly led to payments, especially at the beginning. That's why we added a payment for one edited video as an option. It was a payment for removing our logo from one user's video. So, we had three packages with a payment for 1 video, a month subscription and a year subscription.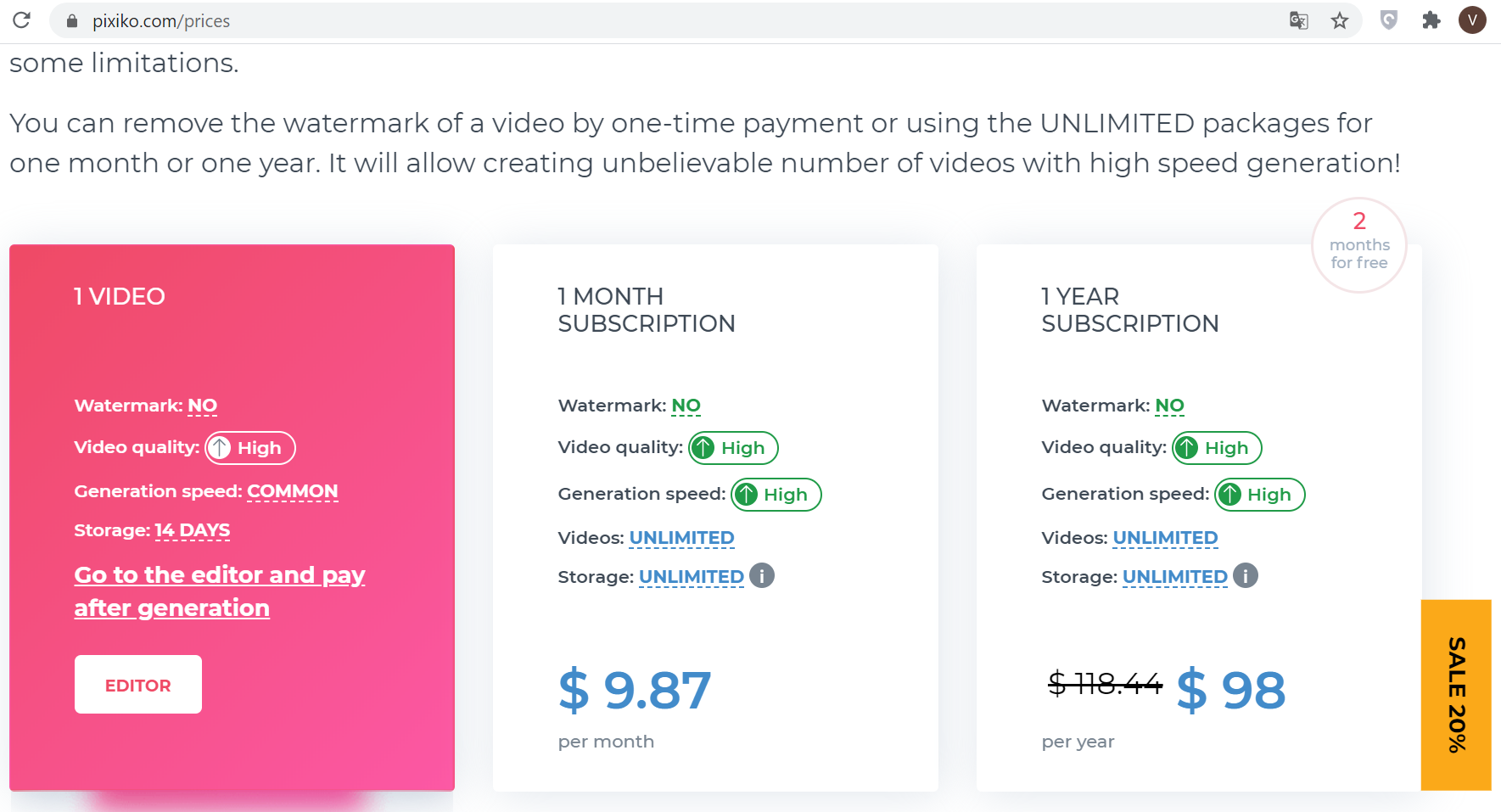 The first price for the subscription was set according to a financial model, taking into account reducing to the market. It was $9.87. The price for 1 video was set by a heuristic formula. One of our target audience is a SMM specialist who makes 1 video per week on average. So, it's better for him (or her) to use e.g. the month subscription instead of one-time payment for 1 video. It caused a price of $2.89. We were so happy and excited especially with the new price and opportunity to get money directly from our website. So, we held our breath and were waiting for a miracle (in fact, we just continued working at other tasks).
The miracle didn't hurry to come. We had good web traffic, users edited their videos and downloaded with our watermark. Then they disappeared. It seemed that nobody paid attention to our logo on videos. Time was passing, money was passing by. Everyone in our company (or only me) began to worry. We analyzed Analytics, traffic, especially search engine one. By the way, I will write another article about traffic. So, we also analyzed landing pages, countries etc. Everything looked good. We checked the opportunity to pay several times and even from other countries because we didn't know if it was good for users from other countries. However, everything worked well. Then, Dima Karpinsky, a Co-Founder at Zexler and Pixiko, offered to reduce our price to $0.89 per one video. The price, on the whole, was not so important for us at the beginning. Though, our profit equaled zero with such a price taking into account commissions for payment systems. However, the main goal was to begin to get money like users' incentive who vote for Pixiko by a dollar.
That change helped us and we got the first payment that day. We shared this excellent news with team members and were so happy in spite of the fact that the second payment was made only 7 days after it. It was 57 days after MVP launched. So, we had a lot of time to worry.

At that time we thought that only price decreasing could cause making payments. However, it couldn't be the real reason. Nevertheless, our game with price in light of our fear led to payments chronologically.
First subscription, product experience & pain
Well, the first payment was made and our team was excited and worked cheerfully. As for me, a minute of euphoria turned into light greed of achieving our goals. We strove for the first month or year subscription.
Our first step was integration of online support to our website. We showed our wish to communicate with users, help them and understand their needs. We added a chat and began to receive a lot of messages about our service. Most of them were about generation speed and maximum size of a video. It was our chance to show users the advantages of the subscription. We had written a letter that answered almost all those questions by way of the subscription. However, it, as expected, didn't lead to the first payment for the subscription...
As we expected, the first payment was made in quite a natural way. One user had made a couple of videos for his Youtube channel and removed our watermark for each of them. After the third video he bought the subscription. It happened 38 days after our first payment for one video. By the way, after that we found out that watermark removal didn't work. So, we began to correct that bug very quickly 😳

It's interesting that he prolonged the subscription several times but didn't edit a lot of videos in order the subscription could be advantageous for him in comparison with one-time payment for one video. The very effect of saving is not as important as comfort – you pay once and do not think of it anymore.
Product experience is primary. However, we didn't stop communicating with users. We tried to lead them to buying the subscription. Finally, it led to direct sales. Nevertheless, it was not our main goal. The most important thing is that we understood the user's local problems and pain and how we could stimulate getting the subscription. It gave us good tasks which led to income growth (I'll tell you about it below). Moreover, we realized that good support claimed great resources which we did not have. That is why we had to refuse support…
Scoring, separate turns and first price growth
Communication with users helped us to understand a primary task. We had to speed up the process of generation. However, it required additional servers, additional expenses for our service which didn't generate a profit. Even unit economics conformed not so obviously or didn't conform at all. Additional investments in something theoretical always raise doubts for business out of the venture industry where financing is made due to profit. That's why we wished to speed up the process of generation and save our money for servers.
In case of little resources, we thought it would be better to speed up the process of generation for those users who most probably pay for the subscription. We came to scoring. We had to divide users into several groups by the probability of future payments. We analyzed users actions on our website from inside analytics and Google Analytics. Scoring also took changes of limits on size and length of video files. Moreover, we appealed for registration to increase those limits.
According to the users' assessment we had made three turns. There were basic, standard and priority turns. The basic turn had users' projects with low assessment and speed generation was very slow. The standard turn had users' projects with an assessment that was above the average one but without the subscription. The priority turn had only subscribers. This turn is out of scoring. Our approach with users' assessment and turns allowed us to speed up the process of generation for those users who could pay for the subscription. Moreover, it was done without additional investments.
Scoring and turns led to good numbers of payments. It really worked and we decided to increase the price for removing our watermark from a video. We set $1.89 and were waiting for a miracle again (in fact, we just continued working at other tasks). The miracle didn't hurry to come again. Our fear grew. We began to think of the previous price but it was just such a period without payments. A little later users began to pay $1.89 like earlier with the previous price of $0.89.
It is significant that scoring and turns allowed us to start the first paying advertising that couldn't work earlier because of low profit. The reason was that a user could come to our website through ads, wait for long video generation among other free projects. Conversion would be bad and we could waste our money.
Value of buying, rejection of one-time payment & higher revenue growth
So, we had raised the price for one video and a number of payments without additional servers. Everything was cool but... We had to show users that the subscription was better than removing our logo from only one video. Our communication with users helped us to make a good decision. Everyone wanted a higher speed of rendering. It means that the subscription must have such an opportunity. It looked like a gold or platinum bank card with good conditions (a personal manager and no turns). The value of buying came out in such a way. It was also very important to show users what they pay for, i.e. the value of buying the subscription.
We added information about an opportunity to use the priority turn on the page of rendering. Users could follow the link and go to the page with the subscriptions.

Our team had made a duplicate of the payment page for time-saving and held our breath and were waiting for a miracle again (in fact, we just continued working at other tasks). Users began to attend the payment page almost immediately but chose only one-time minimal payment. In such a way we increased a number of payments but only for one video. So, we decided to remove that package and showed only the month or year subscription.
After offering the value of buying we got revenue growth three times more than earlier. That meant we chose the right way and did it well.
Conclusion
Make projects which can give money almost immediately.
Do not be greedy. Give users an opportunity to buy something cheap even for one time.
Communicate with users at the beginning. Understand their problems and wishes.
Divide users into basic and priority ones. Give the second ones more attention and opportunities. It will lead to revenue while traffic and resources can be the same.
Think of the value of buying and the value of decision. It will increase sales of profitable products.